Art continuously tries to help us figure out how we connect with each other. It's never easy to condense that complexity in a few songs but Kitchensink attempts to do exactly that in its début album. Released in mid-July, 'Harmless Things' is a reflection of their idiosyncrasies as musicians and people. Mixed by renowned sound engineer Miti Adhikari and mastered by François Lê Xuân at Studio 101 in Paris, 'Harmless Things' features a selection of songs that the band wrote at different points in their musical voyage together.
The album, comprising ten songs, presents an almost panoramic view of the nuances of interpersonal feeling. It leads you in with 'I', a song that begins with an ambient synth patch. Followed by that is Smiti's voice, waltzing along with the music to set the tone for its audiences by expressing that "to listen is to learn is to grow", simultaneously creating a universe of delicate care and self-preservation while beguiling one to long for more.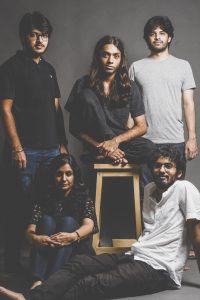 The way the album is structured in relation to the first track and comes full-circle with 'You', an extension of the first track, almost as if to say that 'I' am an extension of 'You', making the listener feel closer to the music.
The album takes the listeners though a journey of self-reflection and nostalgia. This journey is intermingled with the sense of belonging and loss, attempted by evoking strong cinematic images through their vivid lyrical content and fluid soundscapes. It seems as if the intent behind writing an album titled 'Harmless Things' is an invitation to conversations on topics that people often find difficult.
The open-endedness of 'harmless things' could also be interpreted as a euphemism for 'relevant things' but the title and meaning is left free to individual perception. Some songs seem to subtly hint upon uncomfortable (unnamed) topics like 'Making Meaning' that claim to start the conversation around "harmless things like the past winter's weather", possibly referring to embracing issues that are often harmless but glorified. Others like 'Funny Girl' openly broach the desire to subvert and question conventionalities with regard to gender.
The band's choice of releasing a music video for the 'Funny Girl' before officially releasing the album was due to a number of reasons. One of them was that they had certain visual ideas about the music video. Another, that the sound of this particular song was different from their live sound. According to Smiti, "Funny Girl isn't a song about female experience alone and wasn't intended to be a female anthem" but more about the experience of learning to find ways to articulate resistance against how we as a society are often forced into thinking we "ought to be a certain way" and that anything other than is not normative.
The song is an attempt to question the idea of public perception of gender and ownership of others' bodies.
Though the album lacks a singular theme, one can grasp complementary sonic trends throughout 'Harmless Things'. The use of electronic and synth-sounds contribute to setting a reflective mood and seem like attempts to encapsulate collective urban experiences of home and estrangement, while also reflecting on the inherent gaps in language itself.
The band's approach to this album was intended to be slightly different from their live act, as an attempt to incorporate newer and experimental ways of expression. In Adhir's words, "The album is more of a rock sound than anything. I guess that works interestingly in 2018."
Formed in 2014, Kitchensink comprises Smiti Malik on vocals, Adhir Ghosh on guitar, Siddharth Jain on drums, Ritwik De on keys and synth, and Amar Pandey on bass. Kitchensink been a part of the growing independent music circuit in New Delhi, and the members of the band are performing artists, music educators and recording professionals.
Photo Credits: Shiv Ahuja
Album Cover by Drishti Khokhar
Catch the launch gig if you're in New Delhi on August 1 at Alliance Francais, Lodhi Estate
Details here: https://bit.ly/2mPEr7h