Spotify Reverses Anti-Hate Policy That Saw R Kelly's Music Pulled From Playlists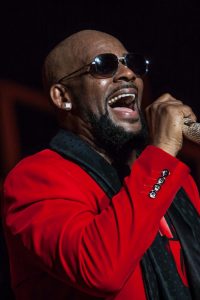 Spotify has backpedalled on its recent anti-hate policy, which saw some artists dropped from its curated playlists, following criticism from music industry figures.
In a blog post, the streaming service said the new guidelines announced in May "created confusion and concern", adding it "didn't spend enough time getting input from our own team".
Spotify had dropped R Kelly's music from its playlists following a string of sexual abuse allegations, which the R&B singer has strongly denied.
Rapper XXXTentacion also saw his songs cut from playlists as a result of the policy. The 20-year-old is awaiting trial over claims he beat his pregnant girlfriend.
XXXTentacion has pleaded not guilty to the charges, while R Kelly has not been convicted of any crimes despite a string of allegations surrounding sexual misconduct.
"Spotify has the right to promote whatever music it chooses, and in this case its actions are without merit," said the singer's management at the time the policy was announced.
"It is acting based on false and unproven allegations. It is bowing to social media fads and picking sides in a fame-seeking dispute over matters that have nothing to do with serving customers."
Source: The Independent
Kanye West Cites Trump, #Metoo And His Bipolar Disorder On New Album Ye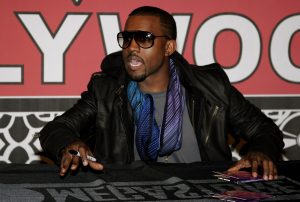 Kanye West has released his eighth studio album, ye, which references controversial remarks made by West in recent months, including a recent interview with TMZ in which he said that 400 years of slavery in America "sounds like a choice". He premiered it via a live-streamed playback from his creative retreat in Jackson Hole, Wyoming, and it is now available on streaming and download platforms.
On a track called Wouldn't Leave, West raps: "I said, 'Slavery a choice', they say, 'How, Ye?' Just imagine if they caught me on a wild day," and alludes to his wife, Kim Kardashian West, calling amidst the controversy to tell him, "'We 'bout to lose it all'". On Yikes, West refers to music mogul Russell Simmons, who is facing multiple allegations of rape and sexual assault. "Russell Simmons wanna pray for me too / I'ma pray for him 'cause he got #MeToo'd / Thinkin' what if that happened to me too".
That track also references West's apparent experiences with the psychedelic drugs 2C-B and DMT and his mental health struggles: "That's why I fuck with Ye / That's my third person / That's my bipolar shit, nigga what / That's my superpower / Nigga ain't no disability / I'm a superhero, I'm a superhero." The cover image is of a mountain range with the words "I hate being Bi-Polar it's awesome" written across it.
Source: The Guardian
Official: Spotify's Global Programming Head Joins Youtube As Director Of Urban Music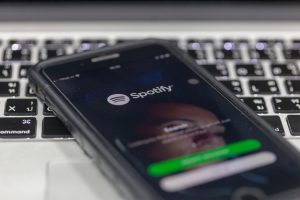 Tuma Basa has officially joined YouTube as Director of Urban Music. The news, confirmed by YouTube, verifies earlier reports of Basa making the switch.
Basa left his position as Global Programming Head, Hip-hop at Spotify in April after the streaming company floated on the New York Stock Exchange.
He joined Spotify in 2015 and led RapCaviar to become one of Spotify's Top 5 playlists worldwide.
At YouTube, Basis will lead activities which the Google/Alphabet platform hopes will 'increase our engagement with the urban music community, artists and consumers'.
Under Basa, Spotify's RapCaviar grew to attract over 9m followers. Last year RapCaviar expanded into live events in tandem with Live Nation.
Before joining Spotify in 2015, Tuma Basa spent four years at BET, ten years at MTV and three years as VP of Music Programming at Revolt TV – the online hip-hop specialist broadcaster founded by Sean 'Diddy' Combs.
Basa held various roles at MTV during his tenure from 2002 – 2012, including Director of Music Programming Initiatives and Music Programming Consultant for MTV Jams – where he created over 2,500 hours of unique music playlists.
Source: Music Business Worldwide
After Telecom Firms, Reliance Jio Is Going After India's Music-Streaming Industry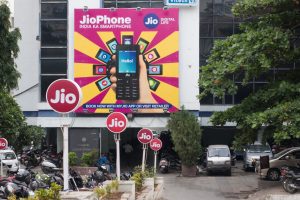 After giving tough competition to telecom firms, Jio is now disrupting India's music-streaming business.
In March, Reliance-owned JioMusic merged with global music-streaming portal Saavn in a $1 billion-plus deal. By the end of March, the combined entity was the only music-streaming company to make gains in terms of app installs on free internet provider Jana's mCent browser.
The merged company saw a 1.24 percentage point share increase from the combined market share back in January, Jana found in its latest Mobile Majority report. For its research, Jana collected app install and usage data from its mCent browser users in India during the first three months of the year. Jana has amassed over 30 million users in India.
Google Play Music saw the largest share drop of more than 1.25 percentage points over the same period.
Besides local players like Hungama and Airtel-owned Wynk, many global companies have tuned into India's music streaming market over the last year. Amazon recently coupled its free music offering with its Prime membership while Chinese internet giant Tencent led a $115 million funding round for Gaana. Swedish digital music company Spotify set up an office in Mumbai last year, employing over 300 persons in India and hiring former OLX India CEO Amarjit Singh Batra.
"The merger of Saavn-Jio will be interesting to watch and could be a precursor to (a) broader consolidation of Indian-based streaming providers banding together to fight against global tech giants like Google, Spotify, and Apple," said Nathan Eagle, Jana founder and CEO.
More than market share, Jio has, in fact, cost Google users' time: At the start of this year, JioMusic and Saavn had a combined 32.5% share of time spent in app, with Jio's share being 25.9% and Saavn contributing 6.6%. By the last week of March, the combined entity accounted for a higher 37.8% share by March 31, as per Jana's study.
Source: Quartz
Berklee India Exchange To Bring Vocal-Intensive Workshops To New Delhi This August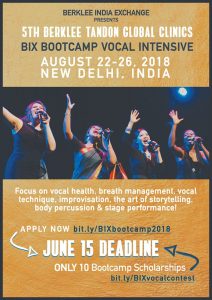 This August, Berklee India Exchange returns to India with the 5th Berklee Tandon Global Clinics in New Delhi. This is a chance to join their first ever BIX Bootcamp: Vocal Intensive!
Applications now open: https://www.berklee.edu/india/newdelhi
Apply for a scholarship: https://bit.ly/BIXVocalContest
Email them at indiaexchange@berklee.edu for details and audition material.
Launched in 2013, the Berklee India Exchange is a campus initiative establishing a platform for cultural conversation about Indian music through artist residencies, musical collaborations, and performances. It is an axis point for Indian artists and students to share their music and experience the music of Berklee musicians hailing from more than 105 countries, and vice versa. Through the exploration of indigenous Indian instruments and the infusion of Indian folk and classical traditions into Berklee's classrooms, a new, vibrant, and dynamic sound is emerging as we nurture the next generation of composers, songwriters, and performers.
Through the Berklee India Exchange, the college is harnessing the global power of the Indian music industry to foster a richer learning environment for all of its students.
Source: SkillBox Staff