On 2nd October, 1995, UK based rock band 'Oasis' released their second debut album. The album immediately began the band's most commercially successful release selling 347,000 copies in it's first week. The album also became the third best selling LP in England's history, after Beatles' 'Sgt. Pepper's Lonely Hearts Club' and Queen's 'Greatest Hits'.
The album contains hits like 'Wonderwall' and 'Champagne Supernova', but there's a lot more you don't know about the band's masterpiece. Here's 6 things you didn't know about the album.
"Wonderwall" was written for Noel Gallagher's then-girlfriend, Meg Matthews.

The inspiration for the famous track was Noel's then girlfriend, Meg Matthews, who he later went on to marry. At the time, she was unemployed and Noel wanted her to know what she meant to him. He wrote to the song to tell her that she was his wall of strength. His solidity.
Some of the album's songs — like "Don't Look Back in Anger"— had no lyrical significance.
In an interview with the Rolling Stone, Noel said "'Don't Look Back in Anger' doesn't mean anything, even though it's a great song." Liam too admitted the songs do mean something, but they didn't really know what.
Oasis drummer Alan White agreed to join the band only one week before recording began on the album
Alan White, joined the band only one week before recording began. He once had walked out of an Oasis concert because he didn't like the drumming.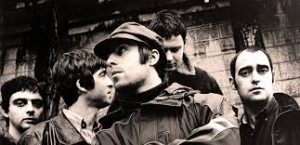 The most famous line in "Champagne Supernova" was an expression often exchanged between the band.

"The line 'Where were you while we were getting high?' — that's what we always say to each other," Noel told The Sunday Times.
The song "Hey Now!" reflected on the changing dynamics of the band.
The song is representation of the change in dynamics the band was witnessing at the time. The band's vibe and music changed a lot from the first to the second album. During the time, they had released their previous drummer Tony McCarroll as well, as they believed he wasn't 'very good'.
Liam was already looking for a way out of Oasis.
At the time of the album being recorded, Liam Gallagher had been thinking about quitting. He believed he could write better music than his brother Noel, but couldn't because he didn't get time being the lead singer of Oasis. He believed he would thrive as a solo artist and looked forward to his music career, one without Oasis. The band finally split up in 2009, after a fight broke out backstage between the Gallagher brothers which resulted in Liam throwing a plum and wielding Noel's guitar like an axe. The group's manager announced the cancellation of their concert in Paris along with the statement that the group 'does not exist anymore.'