Celebrating the notion of art as an open and free entity, the founder of Kranti Art Theory, Romario Rodrigues introduces the idea of Optikal Asylum in collaboration with Social. As an open platform for independent music in India, the founder spreads the net of beauty in songs and colors through Optikal Asylum- removed from the serious confinement of modern formal galleries.
Spread out across multi-city venues, Optikal Asylum is being set up every month in collaboration with Social with the aspiration of making art look more approachable and relaxed while giving way for the alternative to be freely expressed. Having done fourteen successful events in the past, this monthly property seeks to bridge the link between the artists and their followers. After its four-city tour in India just last month, – Delhi, Bengaluru, Pune and Mumbai, before all public gatherings had to be cancelled owing to everyone's safety and health because of COVID-19 pandemic, Optikal Asylum was preparing to step into their fifteenth edition on 15th March at Khar Social as a 'contemporary visual arts showcase'. This is now being indefinitely postponed till the situation gets back to normal.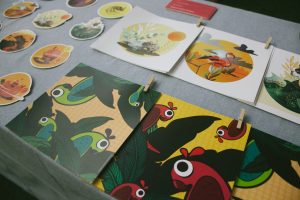 The Optikal Asylum program which is advancing strongly towards the noble cause of sharing and selling modern art in a much more open and accessible platform. The latest edition was to host a terrific lineup of fifteen international and home-grown artists participating at Khar Social. The program invites an active discussion and participation which is quite fresh and unusual in art exhibitions as we have been familiar with. Optikal Asylum usually also has a plethora of young and talented DJs and visual artists in the mix who add to the aesthetic and execution of the exhibition on a more dynamic scale.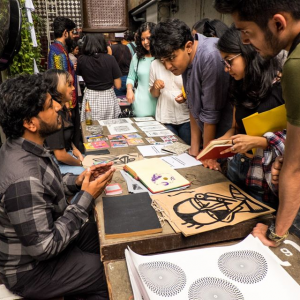 The epiphany of the founder leading to open nature and the idea of Optikal Asylum has inspired and brought in a lot of artists who are in it for the freedom that the event offers. Proving true to what they stand for, Santanu Hazarika, one of the first participating artists on Optikal Asylum and a primary roster artist on Kranti Art Theory and one of India's best doodle artist around says, "As an independent artist, the most important thing for me is to express myself freely and to use all the freedom that I get from a platform. In this regard, Optikal Asylum has always stood for the artists without restrictions on expression or impression. The event is extremely well-curated and is a great platform for artists to showcase their works."
The idea of Optikal Asylum continues to give hope to young and upcoming artists as all proceeds from sales go to the artists and Kranti Art Theory has only kept a cut when sales targets had crossed the desired revenue. With having built a community that loyally surrounds it, the platform aims to grow on a festival scale in the future while lifting local artists and all kinds of art which is brilliant and beautiful!
Some other artists who have been part of the series include Sajid Wajid Shaikh, Priyesh Trivedi,  deadtheduck, Sachin Bhatt, Osheen Siva and Noopur Choksi and a bunch more!