At a Starbucks with other totally idle people in Delhi
I spoke on the phone with this young guitar player whose music I had only just come across, and immediately felt the difference. This happened rarely back then, but something was changing, something in the more-often-than-not-predictable waters of what we call the 'Indie-Music' scene seemed to be changing. I was on my way to meet Abhishek Mittal, the guitarist/front-man of Submarine In Space.
It was like a wave of energy had just come walking up the stairs to the first floor with a guitar strapped to his back, and we met. As soon as he sat down, I asked him about the story behind the name of the band 'Submarine in Space,' and he laughed.
I was always a big fan of Submarine.
The Richard Ayoade film?
Umm, no. An actual submarine. I have always been fascinated with the shape, and I was looking for an abstract kind of name for the kind of music I wanted to play, an abstract kind of music, which would also be catchy.
We both sat giggling to ourselves, as people were busy ordering coffees all around us.
So, how was the band formed?
Initially there wasn't a band, just me, I was basically experimenting on logic, and I made this tune and sent it across to my college band, the Hansraj Projekt. Vaibhav was happy, but suggested a band setup. We began writing a couple of tunes and had our first jam in December 2015. It began as a trio with Madhur, who plays the bass, Vaibhav, on the drums, and I.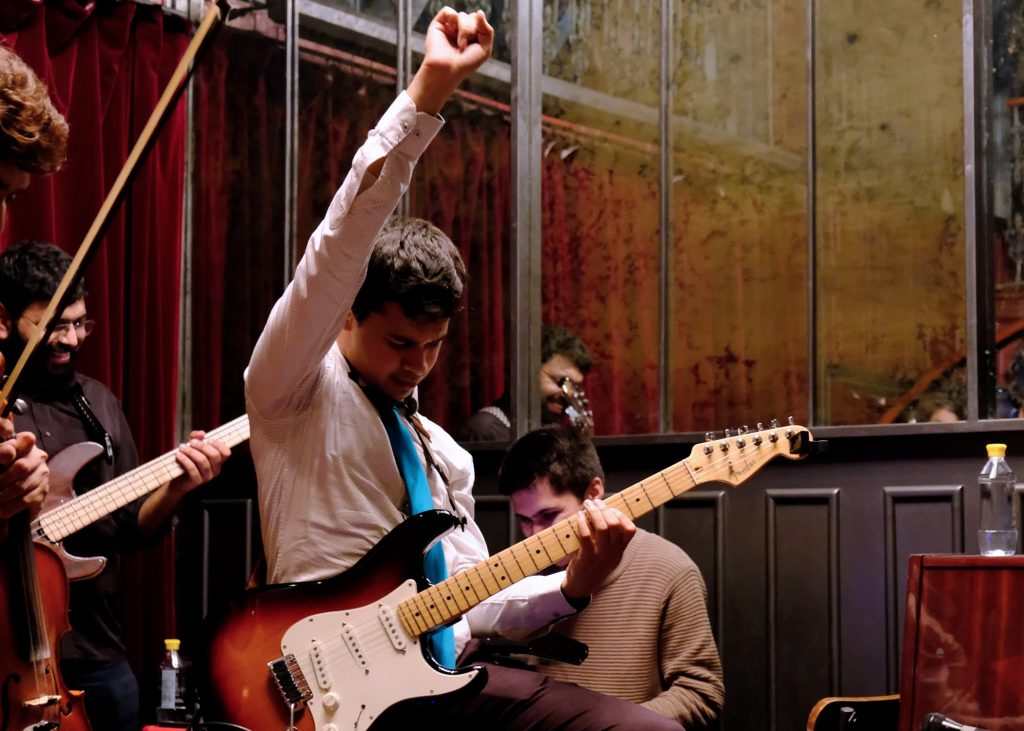 A glass almost fell to the floor, catching everyone's eye but Abhishek's, and he continued, almost prodded by the noise.
Then, I heard a band called Blackstrat Blues, that f**ked up my mind man, I was shaken, I wanted the same line-up, so we wrote five-six tunes and recorded our first single, ['Take Off'] at Quarternote Studios, where Gaurav Chintamani recorded us. Man, for the first time I could hear strings in my songs, and that's when Sayan came in to the scene. He used to play session for us initially, but then on my 20th birthday, in January 2017, I asked Sayan to permanently join (flute + violin). He is like 'home'.
Something about the way Abhishek spoke about his music made me almost wonder if the journey an artist takes, is ever really translatable outside of their music, or even then. A small girl was sitting with her parents in the corner, on my right hand side, and she started humming a melody.
How's the audience reacting to your music?
We recently had our Sofar gig, and we've been working, and practicing hard, trying to release our EP, consisting of three tracks, all pretty abstract. We've been trying to experiment with how the audience would react to the sounds, and as of now in India no one is quite like us, and the audience really connects, man! I wasn't expecting such a packed-house show at Piano Man.
So is the audience reaction shaping your music?
I'm basically experimenting, people react to [the] surprises in your song. A surprise element in the song should make you go "woah man, wtf, it turned out to be something else entirely from what I was expecting!" You know, like a story continued into another story going back to the first story; Section A to B to C, back to A. Every song is a story.
I, by this time, had finally placed the song the little girl had been humming all this while, it turned out to be "munni badnaam hui".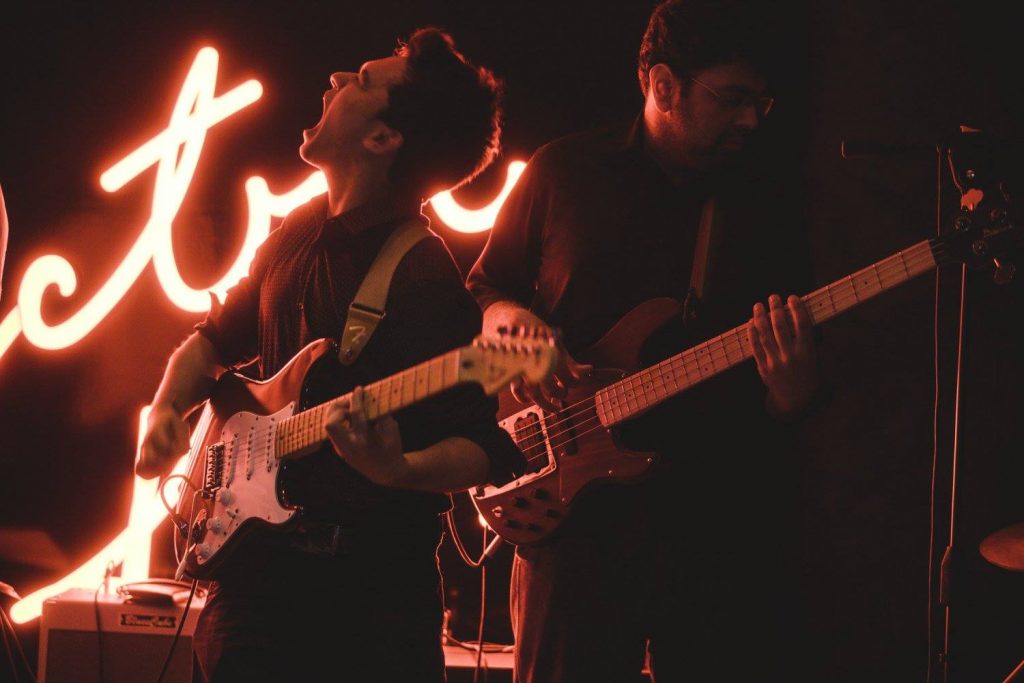 Who, and what, were your influences man?
I don't know, a lot of Jazz, Funk and RnB music? To be honest with you, before college I listened to a lot of Metallica, Megadeth, Dream Theater, and it was great but then college happened. My seniors, band mates, changed everything for me, musically. So, I guess, Snarky Puppy, John Scofield, Lee Ritenour. I just started studying the masters man. I am still bad, and am just trying to get better day by day. Oh! But then I met this guitar player, he's based in India, and his name is Floyd Fernandes, he has been my guru, like f**k bro, he changed everything, he told me to keep pushing myself, as he wanted me to pursue my dream, not get into the mainstream, that money will come eventually, and as of now I need to focus on my art. I guess this has become something everyone in the band believes in.
So, how do you keep the band financed?
Bro, we're investing whatever we earn, into the EP, as of now. From that, we aim to market the product. So, we're basically creating content as of now, we don't want to go over this mediocrity path, ki cover nikalo aur ho gaya (release covers and earn). That's not what drives us. We believe in playing original music. It will take time to earn a livelihood from this band… but it surely is a livelihood when it comes to my musical satisfaction.
The family had finished eating at some point, and had proceeded to disappear in the chaos of an evening at Starbucks. An old couple was playing Uno at the table behind Abhishek, and my eyes kept darting back and forth from him, to them, and I hoped he wouldn't notice my easily distracted mind.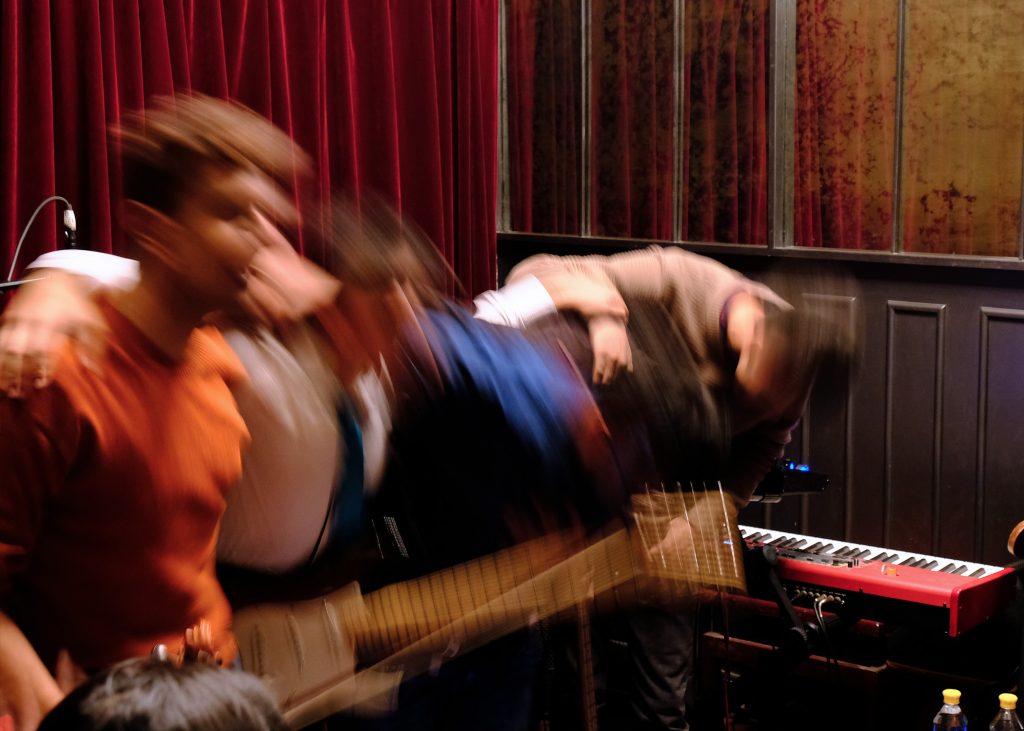 Where do you see yourselves in a couple of years?
Honestly, we should be touring around the world, and if people like our music, and if we keep doing what we're doing, giving no shit, then this is going to happen. It's just about sticking to the music man, it's about sticking to the music, everything else will follow.
A little later, we exited the interview, I turned the recorder off, and Abhishek and I spent the remainder of the evening playing some tunes to one another, before we parted ways. Since this brief meeting, we've crossed paths several times, across multiple cities and spaces, pausing, if only for a moment, to marvel at the potential of where the sheer joy of music can take us, the purest of sounds where one could 'Take Off' from.
You can check out Submarine in Space on
YouTube: https://www.youtube.com/channel/UCVoqL2DK4Ws0z0aSeCuhi8A
Facebook: https://www.facebook.com/submarineinspace/
Instagram: https://www.instagram.com/submarine_in_space/
Their first EP "Wavelengths" is set to release very soon. Do follow them for updates.
Ronojoy Sircar is a hat that wears many men (or aspects of one man). Though unconfirmed at the time of going to press, he could be a musician, writer, filmmaker or an archiver of endangered melodies. But he definitely cannot dance.